How to Find a Beautiful Thai Lady (Not a Bar Girl)?
Thai bar girls work for money – fair enough. That's the reason they have come to Pattaya for and entered the "sex trade" in the first place. And just like you should know that you cannot buy love, every bar girl knows that she cannot "eat" love – nor does a romantic love affair with a Western guy without pecuniary profits support her kids and family upcountry.
Consequentially, the average bar girl's expectation of a long-term relationship with a "wealthy" foreigner is primarily restricted to the prospect of a steady income from a regular visitor (a.k.a. sponsor) who provides monthly financial support from abroad. In other words: No money, no honey.
But there's another famous saying in Pattaya's bar scene: "It may be easy to get a girl out of a bar but impossible to get the bar out of the girl." In many cases of love affairs between Farangs and former bar girls, this is unfortunately all too true – and a permanent source of interpersonal problems. In addition, how would you like the idea of having an ex-prostitute as your girlfriend or wife? For many Western men, the delicate working background of ex-bar girls might also pose a psychological problem.
But where to meet a "normal" Thai girl who has never worked in a bar and isn't dating you just because you've paid her bar fine? Let's face it, it can be a little tricky to find a nice Thai lady in a "normal" environment that actually wants to go out with you. Many "normal" Thai women may either shy away from getting chatted up by Farangs or may simply not be interested in dating Westerners – also due to social prejudice. Unless you can speak some Thai – a skill which can surely help "melt the ice" in the beginning – the language barrier is often another obstacle when trying to establish contact with a Thai lady in an everyday situation, for example, in a shopping mall or club.
Now there's a genuine alternative for foreign men in search of introduction platforms other than beer bars or Gogo bars. If you wish to date attractive Thai girls and women, most of whom have never worked in the sex trade and might have more serious than just financial ambitions and playing the "sex in exchange for money" game, then dating sites may offer a genuine alternative for you.
With Thai women being more internet-savvy and familiar with dating or social networking sites these days, there are now literally tens of thousands of beautiful single Thai women seeking friendship, dating, romance, and possibly marriage with Western men, online rather than by working in a bar – a job that usually comes with extreme social stigma.
Many of these girls are students from Bangkok and single women from Isaan, hailing from exotic provinces like Buriram, Khon Kaen or Udon Thani. But there are ladies from virtually all over Thailand, from all walks of life and age-groups looking for romantic dates with Farangs. If you don't enjoy traveling, most girls will be happy to visit you at your place over the weekend – though it can obviously also be loads of fun to travel to the Thai countryside every now and then and visit the girls in their hometowns.
Also, if you shouldn't be really keen on getting married or entering a serious love affair – but simply wish to find a casual sex partner – many girls not only understand but share this desire for sex without commitments. So if you're seeking your Thai soulmate and possible future wife, or just a "special friend" for occasional meeting with a more serious working or educational background than bar girls, then dating sites might provide the perfect solution for you – as long as you use common sense.
On a side note: If bar hopping and street hookers aren't your kind of thing and you're curious to date a Thai ladyboy that doesn't work in a bar, or you simply seek a more discrete encounter with a ladyboy, you may also want to try your luck with dating sites that focus exclusively on ladyboy dating.
Especially if this should be a "first time" for you and you're still a bit shy or indecisive, popular ladyboy dating sites such as Thai Friendly and MyLadyboyDate.com offer a risk-free opportunity to make yourself more familiar with what might be your secret object of desire?
Let's just add a brief word of warning at this point: While most women on dating sites may be looking for genuine relationships or simply non-paid casual sex with a foreign guy, there are obviously also legions of "gold diggers" and quasi-prostitutes who use dating platforms simply to find "sponsors" or lure customers for paid sex encounters.
Sure, payment may often be disguised as gifts and be less blunt than in encounters with bar girls. And yes, many professional "gold diggers" may be looking for long-term financial security provided by a foreign "sponsor" rather than direct cash payments in exchange for sexual services. But in the end, candidly speaking, it's still all about money for these ladies rather than genuine love affairs. So if you're new to dating sites, make sure you avoid such gold diggers who use the Internet just as an alternative to prostituting themselves in a bar.
Now that you've landed on this page, you've most likely had a crack at it before – if not, just give it a try. When searching for "Thai dating sites" or related popular keywords on the Internet, dozens of (more or less useless) search results will pop up within seconds. "Useless" because many of the sites listed there simply won't deliver what you're looking for. Due to low membership rates, poor design and lack of features, most simply aren't worth joining at all. Except for the hugely popular DateInAsia website and perhaps ThaiXOXO, this applies all the more to sites promising totally free-of-charge services.
As anywhere else in business – and dating sites have become a virtual industry in the past decade – "you get what you pay for" and it's often smarter to rely on well-established services rather than put your faith in dodgy ventures that might eventually simply turn out to be a (financial and emotional) disappointment for you, the client.
Dating sites listed below have all heavily invested in promoting their services and have high (female) membership rates; which guarantees that you won't have to search for very long to find an attractive and suitable partner. They all provide exciting features like live chat rooms, instant messenger services, member videos and photo galleries. So it's easy to test the waters before you meet someone in person.
All dating sites listed here are free to join; this means you can browse thousands of profiles and personal ads free of charge and just for fun. Some sites may require that you upgrade your member account to paid membership status if you wish to contact other members directly. Then again, membership fees are extremely low when compared with the running costs (like overpriced lady drinks, bar fines etc.) of seeking a romantic relationship in the cash-oriented twilight zone of Pattaya's shady nightlife districts. Think it over – it's a win-win game.
Recommended Thai Dating Sites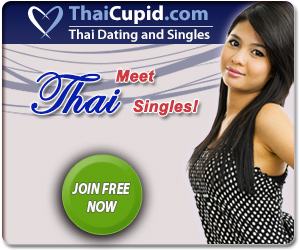 With more than one million active members and thousands of single Thai women online at any given time, ThaiCupid.com is the largest Thai dating site connecting Thai singles seeking friendship, dating, romance and marriage. If you're hoping to meet the woman to make your wife, find a Thai lady for romance and dating, or just to hook up with a cute Thai girl for chat and friendship, this could be the perfect platform for you.
Join for free, create your own profile and add up to five photographs, so other members can get a complete picture of you. You can browse thousands of profiles and contact any number of paying members simply by signing up for free standard membership. With no hidden extra charges, you'll have unlimited opportunities to initiate and receive communication from a growing database of paying members via email or instant messaging.
Other features include photo galleries, translation services etc. Offering all new members free standard membership, you can test-drive ThaiCupid and make sure it's right for you.
ThaiFriendly.com is the most popular free dating site in Thailand with more than four hundred new Thai personals profiles made every day of the week and more than 160,000 single Thai girls in total, all looking for new friends or to start a relationship with a Western guy. At any given time, there are thousands of members online, so regardless of where you stay in Thailand you should always easily find a cute girl to hook up with in your area.
ThaiFriendly.com boasts a remarkably high female membership rate due to the fact that they also offer Thai language to make it easier for Thai girls who do not speak much English to sign up. That's certainly a big bonus for male users!
ThaiFriendly provides many exciting means of getting in touch with Thai women, including messaging, video chat, showing interest, comments on pictures and profiles. And the best thing: It's genuinely free to join and send and receive messages with lovely Thai ladies.
On a side note: If you're curious about getting to know a ladyboy, meeting a sexy LB is now also extremely with ThaiFriendly.com. While the site was originally started for expatriates looking for love with Thai ladies, there are now also thousands of very active Thai ladyboys that will be vying for your attention!
With over two million members from Thailand, the Philippines, China, Vietnam, and many other Asian countries, and tens of thousands of (female) singles online every day, AsianDating.com is the largest and most trusted Asian dating website, designed to assist its members find their true Asian love.
Join for free, create your own profile and add up to five photographs, so other members can get a complete picture of you. You can browse thousands of profiles and contact any number of paying members simply by signing up for a free standard membership. With no hidden extra charges, you'll get unlimited opportunities to initiate and receive communication from a growing database of paying members via email or instant messaging.
Do you love being part of an interactive online dating community? Then you can join their fully functional, busy and interactive chat rooms. With hundreds of singles online every day, you can be sure to meet the perfect Asian chat partner, regardless of where in the world they may be.
Ladyboy Dating Sites
Thai Friendly is currently the most popular site for meeting cute ladyboys online in Thailand and a perfect gateway to get a taste of their fascinating world. Thai Friendly has an easy-to-use interface and literally hundreds of sexy LBs from all over Thailand online at any given time.
Even as a free member, you can send up to one message every 10 minutes to a ladyboy cutie of your choice. Or you upgrade your account to premium membership and gain access to an almost unlimited supply of hot Thai ladyboy contacts. Why not give it a try?
If you're more serious about your "ladyboy adventure" and wish to date a "normal" Thai ladyboy that doesn't work in a bar or strip club, MyLadyboyDate.com is another genuine platform for meeting decent Thai ladyboys that want to hook up with foreign guys and don't just want your money.
So if A-GoGo bars, street hookers and the "pay for play" scene are not your thing, but you seek a more serious date with a "normal" Thai ladyboy beyond the limitations and stereotypes of Thailand's sex industry, MyLadyboyDate.com might provide you with an interesting alternative.
Same as on Thai Friendly, it's free to sign up and create your profile. You can then browse thousands of other profiles of single ladyboys not only in Thailand but all over Asia and beyond. Once you upgrade your account to premium membership you can send and receive an unlimited amount of messages and correspond with thousands of ladyboy members.