Fancy the sight of half-naked sexy Thai girls show-dance right in front of your eyes? Then a visit to one of Pattaya's (in)famous A-GoGo bars should surely not be missing from your to-do list in Pattaya, no matter whether you're a single male, a straying husband or an adventurous couple.
Never been to an A-GoGo before? Then you'll hopefully get a few first impressions on this page of what's awaiting you in a typical GoGo bar, including a collection of sexy clips and links to Pattaya's hottest clubs.
Pattaya A-GoGo Bars
Pattaya currently has more than 80 GoGo bars. While the better part is located in the Walking Street area of South Pattaya, an ever-increasing number of GoGo bars and coyote clubs can also be found on Soi LK Metro off Soi Buakhao.
GoGo bars are air-conditioned indoor bars with dancing stages in the centre and lots of attractive ladies with only little clothes or bikinis on, who indulge in the erotic art of pole-dancing. In that respect, A-GoGo clubs are pretty much like Western-style strip joints and table-dance clubs.
Many bars also provide some kind of naughty show entertainment, typically including profane objects like balloons, bananas and cigarettes ("pussy smoke cigarette"), or simply two affectionate girls involved (lesbian show).
Seating in GoGo bars is available either on bar stools along the dancing stage or on sofa-style chairs along the usually mirrored walls. While a seat right at the stage will certainly provide you with a more detailed view of the female physique, you can be sure to get a stiff neck as well.
Table-dancing on mirrored tables has also become quite popular in recent years. The sole reason for these mirrors is, of course, that the girls wear only very little clothes under their short skirts, and to assure that heavily intoxicated punters, who prefer to stare down at the table anyway, don't miss any intimate physical details between the thighs of the sexy dancers. Yet other bars provide the girls even with jacuzzi tubs to guarantee that their most intimate parts meet international hygiene standards …
Unfortunately, the music played in most A-GoGo bars in Pattaya these days tends to be the average noisy Thai-style Techno music played at a little ear-friendly volume. Some places, however, still employ DJs of a more advanced age group so-to-say and play some good old Rock 'n' Roll tunes or a decent mix of music styles at a more moderate and ear-friendlier volume.
The first GoGo bar ever in Pattaya was the legendary Tahitian Queen A-GoGo (TQ) that opened its dancing stage back in 1978 and is still successfully in business after nearly 40 years of Rock 'n' Roll. Since those early days, the number of chrome pole palaces has only been rising from year to year.
Nowadays, Pattaya has more than 80 GoGo bars situated all over town. While A-GoGo's are concentrated most densely in the Walking Street area and South Pattaya, sparsely dressed show girls who shake their little booties on the dancing stage are plying their trade all over Pattaya.
An ever-increasing number of chrome-pole palaces can be found exceedingly on Soi LK Metro (off Soi Buakhao), but also on Pattaya Beach Road, Soi 6, 7 and 8, Soi Post Office, Soi Yamato, and even in Jomtien or Naklua. While some venues have been around for years or decades, the less successful places appear to change ownership, names and format every couple of months.
Please note that some places on Walking Street may be somewhat racist and won't allow visitors from the Indian subcontinent to enter their venues. If you should be from India or of Indian descent you should find the GoGo bars on Soi LK Metro much more welcoming.
Despite regular raids on venues providing "lewd" entertainment, "sexy" shows at designated hours (often featuring proper "pussy artists"), "no knickers" and nude dancing are still quite common in most GoGo bars.
How come? Simple answer: In spite of Pattaya's ambitious efforts to focus increasingly on family vacationers and the "quality" end of the tourism market, there's obviously still a huge demand for raunchier forms of entertainment that don't necessarily comply with the envisioned new image of a "clean" (sex-free) Pattaya.
Needless to say that the bars, with a little help of corrupt officials who are ready to bend the rules in exchange for a bit of tea money, are simply complying with this ongoing demand. Thanks Buddha, one may say.
Happy Hours & Drinking Prices
Most Gogo bars have "happy hours" in the early evening hours, with draft beer sold at as cheap as 50 or 60 Baht in some places, which isn't just good value for money but often cheaper than drinking in a beer bar.
A-GoGo bars typically employ extra staff, both male and female, whose job it is to stand outside the premises, wave advertising signs promoting happy hours and show times ("have show no charge!") and invite passers-up to come in and join the fun.
Regular drinking prices for bottled beer, spirits or "lady drinks" are, however, well above the average prices paid at conventional beer bars. For example, a bottled beer may easily set you back 120-180 Baht in most GoGo bars and especially lady drinks are usually well above 100 Baht. As a tourist, however, given the special sort of entertainment you're getting, you should still find these prices reasonably cheap. (Just be aware of girls that ask you for a new lady drink every 15 minutes; you might end up with more lady drinks than beers on your tab.)
In general, there is no cover charge, i.e. no additional entry fee or extra charge for shows being performed on stage. The few places that do charge entry fees cater primarily to Asian customers; so simply avoid them. The notorious rip-offs frequently reported from GoGo bars in Bangkok are usually uncommon in Pattaya.
Taking a Girl Out of a GoGo Bar
Same as beer bars, A-GoGo bars are hostess bars; this means that the dancers (not the service girls usually) are available for a session of erotic exercises in the privacy of your hotel room. On the downside, as Gogo girls are usually more attractive than their colleagues in customary beer bars (and their base wages much higher too, which means higher running costs for bar owners), bar fines in A-GoGo bars tend to be at least double as high as in beer bars – roughly 500-1,500 Baht or even more for "coyotes" and "show girls".
We're here to give you advice and prepare you for a visit to Pattaya's raunchier venues. But it hasn't made our job easier that, other than just a few years ago when you'd usually pay just 500-700 Baht to take a pole dancer out of her venue, bar fines in A-GoGo clubs have become increasingly unpredictable and may vary significantly from venue to venue.
In the Walking Street area, for example, bar fines in many chrome pole palaces have rocketed to exorbitant levels where bar managers effectively put customers off from bar-fining one of their staff, at least before midnight or until just before the DJ plays the last tune (which is usually at 3 a.m.)
While the sexiest girls certainly still dance on stages in Walking Street, the ever-rising number of GoGo bars on Soi LK Metro (some of which have managed to hire some extraordinarily cute ladies) are definitely worth a visit – not just if you don't feel like wasting half a fortune on bar fines.
While 600-700 Baht still seems to be the "norm" these days (it's actually the lower threshold), exact rates will often also depend on the time when you want to "bar fine" a girl, i.e., the later the evening the cheaper her "bar fine". Please also note that "long-time" (the lady of your choice staying with you overnight) is often also discouraged via extraordinarily high bar fines, and that "coyotes" may not always be "bar-finable".
Little surprisingly, the "compensation fees" that GoGo girls charge for additional "naughty" services between the sheets also double or triple the amount that an "average looking" bar girl would ask for. Expect to spend a minimum of 2,000 Baht on top of the bar fine.
Short-time rates (for an escapade of an hour or so) start at 1,500 Baht at the cheaper venues while long-time rates can be anything from roughly 3,000 to 5,000 Baht (as everywhere in business, the sky is the limit). At these rates – plus bar fine and a couple of lady drinks perhaps – even a session with an escort girl might seem like a relative bargain.
As in beer bars, prices are always negotiable, most effortlessly when the bars are just about to close and most of the stunners have gone already; just don't expect too much of a discount, especially during the "high season" months. With GoGo girls, please also bear in mind that you actually get to eyeball what you get before you pay, i.e. a girl that looks sexy not just in her fancy bar dress but also when the clothes are stripped off – something that can't always be said about ladies working in "regular" bars.
N.B. If all that commercial pay-for-play stuff, like paying extortionate bar fines just to take a girl out for dinner, isn't really your thing, cute Thai girls with more romantic ambitions that aren't just keen on your cash-filed wallet increasingly hook up with foreign guys on social networking and dating sites rather than dance naked in front of a bunch of horny blokes.
While the most popular Thai dating sites like, for example, Thai Friendly are actually free to join, even paid membership plans starting from less than 1,000 Baht are certainly still a lot cheaper than a single night of buying lady drinks for half a dozen bar girls on Walking Street, so it's surely well worth having a shot at.
Last but not least: Having said that GoGo bars are primarily hostess bars that cater to single male tourists, they can certainly still be an awful lot of fun for more adventurous couples too.
A-GoGo clubs have become a substantial feature of Pattaya's (in)famous nightlife and synonymous with the city's "sex industry". So if you really want to know Pattaya by heart, a visit to a typical GoGo bar should definitely be on your must-do-list in Pattaya, even if it's just to get a first impression and you should leave it again on your own – or with your wife of 25 years.
Speak German? Um mehr über GoGo Bars in Pattaya zu erfahren – und die sexy Action, die Single-Urlauber da so erwartet -, schaut doch einfach mal auf unserer neuen deutschsprachigen Pattaya Info-Seite vorbei!
Pattaya GoGo Bar Videos
If you prefer visual evidence: The clips embedded below should give you a taste of the sexy action awaiting you in a GoGo bar in Pattaya. For more clips, please see our extra Pattaya Nightlife Videos pages.
LIVING DOLLS, WALKING STREET
WINDMILL AGOGO, SOI DIAMOND
ALCATRAZ AGOGO, WALKING STREET
PARADISE A-GOGO, SOI LK METRO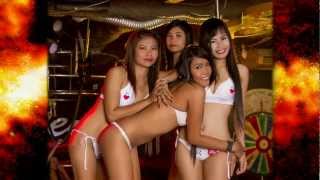 KITTEN CLUB, PATTAYALAND SOI 2
SAPHIRE A-GOGO, SOI 15
LIVING DOLLS, WALKING STREET

WINDMILL AGOGO, SOI DIAMOND

ALCATRAZ AGOGO, WALKING STREET

PARADISE A-GOGO, SOI LK METRO

KITTEN CLUB, PATTAYALAND SOI 2
More
Pattaya Videos
&
Nightlife Clips
– Beaches, Attractions, Nightlife Spots
Links – Pattaya GoGo Bars
Pattaya currently has over 80 A-GoGo clubs, and the number of new venues seems to be continuously rising. Listed below are only venues which have either their own websites or Facebook pages and that offer you a kinky preview of the special sort of entertainment awaiting you in a typical Pattaya GoGo bar.
To add your link or for link exchange, please contact us.
Pattaya GoGo Bars A-Z
A
Alcatraz A-GoGo
Walking Street (between Soi 14 and 15), South Pattaya
Airport Club A-GoGo
Walking Street, South Pattaya
Angelwitch A-GoGo
Walking Street Soi 15, South Pattaya
B
Baccara A-GoGo
Walking Street (between Soi 15 and 16), South Pattaya
Babydolls A-GoGo
Soi 15, Walking Street, South Pattaya
Bachelor Club
Soi LK Metro, off Soi Diana, Central Pattaya
Beach Club A-GoGo
Soi 15, just off Walking Street, South Pattaya
C
Champagne AGoGo
Soi LK Metro, off Soi Diana, Central Pattaya
Classroom AGoGo
Pattayaland Soi 2, off Pattaya 2nd Road, South Pattaya
Club Boesche
Soi 16, Covent Garden, Walking Street, South Pattaya
Club Electric Blue
Soi 15, Walking Street, South Pattaya
Club Mistys
Soi 15, Walking Street, South Pattaya
Crystal Club A-GoGo
Soi LK Metro, off Soi Diana, Central Pattaya
G
G-Spot Pattaya
Facebook page
Walking Street, between Soi 14 and 15
Gentlemen's Club
Soi Diamond, off Walking Street, South Pattaya
H
Happy A-Go-Go
Soi Happy, off Walking Street, South Pattaya
Heaven Above A-GoGo
Facebook page
Soi Diamond, off Walking Street, South Pattaya
K
Kitten Club AGoGo
Pattayaland Soi 2 (between Pattaya Beach and 2nd Road), South Pattaya
L
Lady Love A-GoGo
Soi LK Metro, off Soi Buakhao, Central Pattaya
Living Dolls Showcase
Walking Street, South Pattaya
P
Paradise AGoGo
Soi LK Metro, off Soi Buakhao, Central Pattaya
Peppermint AGoGo
Walking Street (under Marine discotheque), South Pattaya
Q
Queen Club
Soi LK Metro, Central Pattaya
S
Sapphire Club A-GoGo
Facebook page
Soi 15, just off Walking Street, South Pattaya
Secrets Nightclub
Soi 14, off Walking Street, South Pattaya
Showgirls A-GoGo
Facebook page
Soi LK Metro, off Soi Diana, Central Pattaya
Skyfall A-GoGo
Walking Street, 50 metres from Beach Road, South Pattaya
Spanky's A-GoGo
Soi Diamond, off Walking Street, South Pattaya
Sugarbaby A-GoGo
Facebook page
Soi 14, off Walking Street, South Pattaya
Sweethearts A-GoGo
Walking Street, South Pattaya
T
TABOO Club A-GoGo
Walking Street, South Pattaya
Tahitian Queen
Pattaya Beach Road (between Soi 12 and 13), South Pattaya
Tim Bar Beer AGoGo
Pattaya 2nd Road, South Pattaya
W
Windmill A-GoGo
Soi Diamond, off Walking Street, South Pattaya
X
X Zone Girls AGoGo
Covent Garden, Soi 16, Walking Street, South Pattaya