Popular with tourists and expats alike, Pattaya has attracted nine million visitors only in 2013 and is mostly famous for its sunny beaches, legendary nightlife and its 24/7 party atmosphere. Pattaya-Funtown.com – now completely revamped and with an all new user-friendly design – is your comprehensive online travel guide to Pattaya, Jomtien and Thailand, providing you with all the information you need before traveling to Funtown. Find everything you need to know about holidays, life and lifestyle in Pattaya here on our website. Useful info for tourists, "long stayers" and expats alike.
Featured Pattaya Videos of the Week
WALKING STREET JANUARY 2015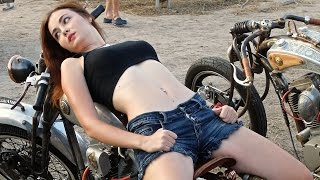 BURAPA BIKE WEEK FEBRUARY 2015
WALKING STREET JANUARY 2015

BURAPA BIKE WEEK FEBRUARY 2015
More
Pattaya Videos
&
Nightlife Clips
– Beaches, Attractions, Nightlife Spots
Since summer 2014, a number of changes to the visa rules have been announced by Thai immigration. While it still remains to be seen how strictly the new rules will be enforced, you can find a summary of the main changes here. For further details, please consult our dedicated Thai visa section or our frequently updated visa news page.
Pattaya Travel Guide – From Fishing Village to "Funtown"
Since Pattaya's "discovery" by U.S. soldiers in the 1960s, and its rapid transformation from a virtually unknown fishing village to one of Thailand's most popular tourist destinations, Pattaya has gone through some significant changes but has always remained loyal to its good old "Funtown" image.
Less than a two-hour drive from Bangkok and Suvarnabhumi Airport, Pattaya has become famous for its tropical beaches, dozens of nearby tourist attractions, excellent restaurants and shopping facilities but, most notably, its world-famous nightlife and "sex industry" that kick-started Pattaya's boom as a tourist destination in the 1960s.
Pattaya in the 21st century, however, can no longer be reduced to its bustling nightlife, thousands of beer bars, nightclubs and massage parlours. While the city's "adult entertainment industry" certainly still plays a major role in attracting tourists to Funtown, in recent years, more and more couples and families, many from emerging source markets like Russia, China, India and the Middle East, have discovered Pattaya as their favourite destination, urging the city to refocus also on the needs of this new breed of tourists. Indeed, Pattaya today attracts millions of foreign tourists from all over the world every year and has something on offer for everyone – young and old, single and couples, families and pensioners alike.

If lazy sunbathing on Pattaya beach and shopping sprees on traditional markets fail to satisfy your adventurous soul, then how about a jet ski or banana boat ride? Some of the "must-see" tourist attractions include, for example, the Sanctuary of Truth, Pattaya's own version of a "Floating Market", Crocodile Farm and Elephant Village. Other popular daytime activities include a boat trip to Koh Larn island just off the coast off Pattaya, scuba diving, deep-sea fishing or bungy jumping, to name but a few. And if you don't like being stuck in the same place for the entire length of your holiday, Pattaya is a perfect starting point for round trips and excursions to other popular tourist spots like Bangkok, Koh Chang, Ayutthaya, or the bridge on the River Kwai. Rest assured that no matter what you're looking for, you can be sure you'll find it in Pattaya! And if you're more into, eh, night-time activities, just scroll a bit further down …
Pattaya Nightlife – "Disneyland for Adults"
Having said that Pattaya is in the process of revamping itself as a suitable destination also for families – if you're a single male tourist visiting Pattaya, your folks back home will hardly believe you that you're coming here merely for the beautiful beaches, fascinating temples and deliciously spicy Thai food. And even if you were so naive and quixotic – if you've studied Pattaya's history carefully or just stroll down Pattaya's beach promenade or (in)famous Walking Street after dark, you simply can't ignore the "naughty" side of this self-proclaimed city of extremes …
More than half a century after U.S. soldiers "discovered" Pattaya as a R&R destination, Pattaya is still a true "Disneyland for adults" and particularly single male mammals. After all, it's fair to assume that Pattaya's nightlife and bar industry, with an endless supply of beautiful Thai girls from the countryside, were the main incentives for the soldiers of the Vietnam war era to fall for Pattaya so quickly!

Then again, if Thailand's amazing culture should really be your major subject of interest, well, you may also have heard that prostitution, in spite of not being "strictly legal", has a lively and much longer tradition in Thailand than modern-day mass (or "sex") tourism and is deeply ingrained in its culture? So let's not beat around the bush – if you wish to study this tricky aspect of Thai culture more profoundly, then Pattaya is the perfect environment for in-depth field research at the grass-roots level. Yep, now we're talking about Pattaya's notorious nightlife and infamous "sex industry", with literally thousands of bars and nightclubs, discos, pubs and GoGo bars; last but not least – let's face this pretty fact – Pattaya's beautiful and charming ladies!
In our nightlife section, we'll sneak a peek at what you should expect in a typical Pattaya "girlie" bar. Learn how to spot a ladyboy; how much to pay for a "lady drink"; what is a so-called "bar fine"; what's the difference between a traditional Thai and "body massage" … and all the sexy rest of it!
Thailand Travel Guide – Welcome to the "Land of Smiles"
Our general Thailand tourist guide pages provide you with all the information you'll need before traveling to the Land Of Smiles. Do I need a visa to travel to Thailand? Where can I find the nearest Thai embassy or consulate, and what kind of visa can I apply for? Find all you need to know about Thailand's most popular tourist destinations, history, people and culture, climate, holidays and festivals, and a brief guide on how to get around in Thailand.

This section also features various Thailand-related articles of interest for tourists and expats alike, covering such diverse topics as Thai dating sites, business, property and investment, national holidays, the difference between a traditional Thai and "soapy" massage, and the various types of "long-stay" visa available for Thailand. Learn Thai language? Our Thai language pages don't just give you a brief introduction to the history and structure of this fascinating language – you can also pick up some basic Thai vocabulary and learn lots of useful phrases.
Looking for cheap accomodation in Thailand? We have partnered with Agoda.com – a Bangkok-based hotel reservation service specialized in securing the lowest prices in Asia – to offer you a selection of over 10,000 hotels and resorts in Thailand's top tourist destinations, from budget rooms at special discount internet rates starting at less than 400 Baht per day to five-star luxury seaside resorts. For an extensive selection of nearly 1,000 hotels and guesthouses only in Pattaya, please use our hotel search box tool near the top right of this page. Simply enter your travel dates and start your search for the best hotel deal!
Long-Stay Tourists & Expats! New Stricter Visa Regulations
It's certainly never been easy for expats and long-stay tourists to obtain a proper visa for Thailand that allows them to stay in the kingdom for longer than just a couple of weeks or months. Since August 2014, this certainly hasn't become any easier. Not only were the requirements for certain types of Non-Immigrant visa tightened in several countries – a number of general changes to the visa rules have also been announced by immigration. While it still remains to be seen how strictly the new regulations will be enforced, here's a summary of the main changes. More detailed information can be found most conveniently in the visa section of our website and on our frequently updated Visa News page.
Starting from August 2014, out/in visa runs, e.g., to the Cambodian or Lao border, including out/in "visa runs by air", are basically a thing of the past. The Nation reported on July 15: "From August 13, people [who have not obtained a visa prior to their visit to Thailand] will not be able to re-enter the country, regardless of their choice of transport". In other words: If you haven't obtained a visa prior to your visit to Thailand but wish to stay longer than just for a holiday, then "visa runs" are no longer a viable option to extend your stay in the kingdom, but you're advised to apply for a tourist visa at your local Thai embassy or consulate in advance. A single-entry tourist visa is good for a 60-day stay in Thailand and can now be extended locally for another 30 days. If you wish to wish to stay in Thailand more or less "permanently", you should obtain an appropriate (Non-immigrant) visa prior to entering the country.
In summer 2014, it was reported that tourists and expats who overstay their visa for more than 90 days might get blacklisted in the future, i.e. banned from returning to Thailand for 1-10 years. Until now, tourists who overstayed their visa were usually simply fined 500 Baht per day up to a maximum fine of 20,000 Baht; only when an "overstayer" was caught within the kingdom, he/she faced arrest and deportation; overstayers were not blacklisted. According to the new proposed rules, foreigners who overstay their visa for 90+ days would automatically get blacklisted for a period of 1-10 years, depending on the length of their overstay. The new rules were reported to take effect late August 2014, however, have not been approved as yet, and the whole hurly-burly might have been false alarm only.
New stricter requirements for ED visa extensions have gone into effect on August 29, 2014. Until then, the same ED visa could be used to study the same subject, e.g. Thai language, for up to five years; the student did not have to leave Thailand but could simply extend his visa at the local immigration office every 90 days. Under the new rules, an ED visa is valid for a maximum of one year only, provided that the student studies the required amount of hours per week (otherwise an extension may be rejected and the visa cancelled). After one year you will have to leave the country and apply for a new ED visa.
In addition, Thai language students will now also have to attend classes 4 days a week, for two hours per class, in order to extend an ED visa, effectively doubling the hours of study. If students don't study the required amount of hours per week, their visa will not be extended. Also, when extending their visa for 90 days, ED visa holders will initially be given only a 15-day extension. At the end of this "evaluation period" they must go back to Immigration and will be granted another 75-day extension. This post and this thread at ThaiVisa.com discuss the new rule in more detail.
It remains uncertain whether the crackdown on out/in visa runners also targets foreign visitors holding valid tourist visas. AsianCorrespondent.com reported in July 2014: "Even those on valid tourist visas may be denied entry if immigration officials suspect feel they are spending too long in the country or working illegally." Ajarn.com even anticipated that "from [August 12th], apparently no one will be allowed to use back-to-back 60-day tourist visas to enter Thailand." This interpretation was obviously exaggerated. Indeed, as an immigration official in Chiang Mai confirmed on August 20, 2014, "there is no limit to the number of tourist visas you can apply for, nor is there a minimum time limit between each one." He also confirmed that a multiple-entry tourist visa will "allow you to exit and enter Thailand however many times you have been granted." In any case, tourist visa applicants should always be prepared to prove they are in fact tourists and, if required, be able to produce a confirmed airline ticket, hotel booking etc. Some Thai consulates may also be more lenient than others.
Last but not least, there are also some good news. Reportedly effective from August 29, 2014, tourists can now extend their 30-day visa-exempt stay in Thailand by a further 30 days, not just seven days as previously. All you need to do is visit your local immigration office after your first 30 days have expired and apply for a 30-day extension at a fee of 1,900 Baht; effectively giving you 60 days of stay without having to apply for a visa. Just expect that you'll be asked to produce a confirmed air ticket out of the country within the 30 days of extension, hotel booking confirmation, and possibly proof of sufficient funds. If you cannot produce an air ticket out of Thailand within 30 days, you will most likely be given only a 7-day extension as previously and have to leave the country within a week.
Pattaya-Funtown.com Redesigned – Do You Like What You See?
Last but not least – how do you like the new looks, features and functionality of Pattaya-Funtown? If you've visited our website before, you've surely noticed its all new user-friendly design which not only makes it easier for "us" to regularly update these pages, but also allows for more interaction between "us" and you – our valued visitor.
For example, now you can leave a comment on most pages (be productive!) and articles on our new blog-style news page – a feature we hope you will enjoy. With its brand-new sleek design, our website should now also look more "attractive" in different browsers and on different devices, e.g. if you view this page on a tablet or mobile phone. (Rest assured that a 100% mobile-friendly version is also in the pipeline and that content-wise – aside from being thoroughly updated – not much has changed.)
So to start with, why don't you just leave a reply in the new comment box below? Tell us what you think, whether we've done a decent job or not so far, or what other additional features you'd like to see on Pattaya-Funtown. As usual, your constructive feedback that helps "us" continuously improve this website, is highly welcome and appreciated. Finally, if you wish to submit your own Pattaya-related articles and stories, share your holiday pics or any other stuff that might be of interest for other visitors too, you're also very welcome to drop us a line.